Kompas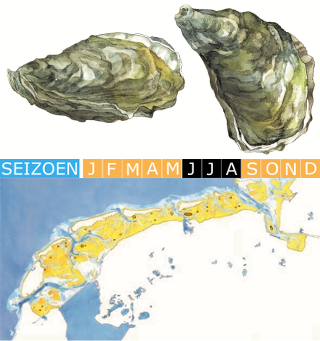 Geïntegreerd
De oester is een exoot, maar de bank heeft een belangrijke functie in het ecosysteem. Hij geeft beschutting aan tal van beestjes en planten. Uitgangspunt voor geïntegreerd vissen is dat de bank bij het rapen, ook op de lange termijn, intact blijft en zijn rol in het systeem kan blijven vervullen. In een goed beheerde visserij kan een bank elk jaar opnieuw met mate beraapt worden.
Als parttime seizoen visserij past de handmatige oogst goed in een geïntegreerd bedrijfsmodel, naast andere vormen van vaste vistuigvisserij of schelpdiervisserij.
UIT DE VISSERIJPRAKTIJK
De Stichting Geïntegreerde Visserij heeft vanaf 2013 gegevens verzameld van de eigen manier van oesters vissen. Daarmee is berekend dat in de Waddenzee door ongeveer 16 vissers parttime, seizoensmatig en met een duurzame bedrijfsvoering geraapt kan worden.
Als bouwsteen voor een geïntegreerd bedrijf is de handmatige oestervisserij goed te combineren met vaste vistuigvisserij of schelpdiervisserij waarbij vissers ook op ondiepe en droogvallende delen van de Waddenzee varen, werken, rondlopen en waarnemingen doen.
Vissers die selectief rapen merken dat het meer moeite kost oesters van de goede kwaliteit en formaat te vinden. Waarschijnlijk worden de dichtstbijzijnde banken, vanuit de thuishaven, intensiever benut en leveren na enkele jaren minder op. De manier van rapen en de intensiteit is van invloed op wat geoogst kan worden.