Kompas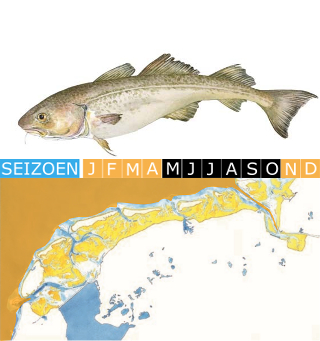 Geïntegreerd
Uit de experimenten blijkt tot nu toe dat vooral kleinere maten kabeljauw voor de waddenkust voorkomen. Het is belangrijk de ontwikkeling van het bestand te volgen.
Bij een verder groeiend kabeljauwbestand kan de vis een belangrijke doelsoort voor geïntegreerde kustvissers zijn, die er in de winter met staande netten of lijnen op kunnen vissen met kleine boten. De hogere marktwaarde van lijn gevangen kabeljauw is belangrijk.
In een geïntegreerd bedrijfsmodel past deze wintervisserij goed bij de zomervisserijen op tong, zeebaars of makreel langs de kust boven de eilanden.
Vroeger was kabeljauw vaak een welkome wintervisserij voor garnalenvissers, nadat de garnalen in de herfst naar dieper water zijn getrokken.