Kompas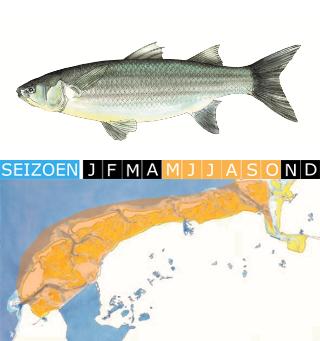 Biologie
De diklipharder paait in het Kanaal en Ierse wateren in juli en augustus. Het is niet duidelijk of harders zich ook in de Noordzee of Nederlandse kustwateren voortplanten. De eieren zijn drijvend. Een maand na het uitkomen trekken de larven naar de kust en groeien op in de estuaria en in de Waddenzee. Het is een langzaam groeiende vis: Eenjarige harders hebben een lengte van 10 cm, tweejarige 14,5 cm en driejarige 18,5 cm. De helft van de mannetjes is geslachtsrijp bij een lengte van 40 cm en een leeftijd van 9 jaar; bij de vrouwtjes is dit 47 cm en 11 jaar oud. Een vrouwtje van 50 cm lengte produceert ca. 564.000 eieren.
Diklipharders zwemmen de Duitse Waddenzee op als de watertemperatuur 14 °C of hoger is.
Harders leven in scholen nabij de kust en in brak water.
UIT DE VISSERIJPRAKTIJK
In Van der Hammen et al. (2010) geven twee Wadvissers aan dat harders meestal tussen mei en begin juni voor het eerst de Waddenzee binnen komen, onder andere afhankelijk van de omstandig¬heden in de voorgaande winter. Volgens deze vissers komen de harders eerder als het een strenge winter is geweest (dat kan vanaf begin april zijn) en zien ze er ook magerder uit.
Andere vissers nemen waar dat harders in het voorjaar met tussenpozen groepsgewijs de Waddenzee intrekken en dat zulke groepen onderling uit vissen van hetzelfde formaat bestaan. Aangekomen in de Waddenzee lijken die groepen eerst uit elkaar te zwermen om later in de zomer weer grote geconcentreerde scholen te vormen. Rond oktober gaan ze weer terug richting open zee.