Kompas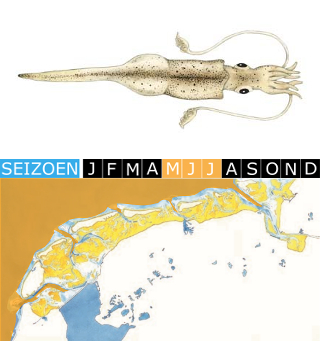 Visserij
De vangkans in de Waddenzee en de Noordzeekustzone boven de wadden eilanden lijkt het grootst in de zomermaanden, in het voortplantingsseizoen.
Vistuigen
Met diverse soorten trawls, kieuwnetten, lift¬netten (een soort kruisnet of totebel), warnetten, hoekwant (beuglijnen) en zegens kan dwergpijlinktvis gevangen worden.
De soort wordt ook mee gevangen bij de visserij op pijlinktvis als daar met jiggers (automatische hengels) op wordt gevist, en is bijvangst bij garnalenvisserij.
Hoe selectief?
De jig is waarschijnlijk het meest selectief. Bij nachtvisserij wordt de inktvis met sterke lampen aangetrokken, waarbij de dieren zich concentreren op de overgang van donker naar licht. Dit kan de selectiviteit bevorderen.
UIT DE VISSERIJPRAKTIJK
De meeste inktvis wordt aangeland in Frankrijk. In Nederland wordt dwergpijlinktvis incidenteel aangeland. Het gaat dan alleen om bijvangst van garnalenvissers. Experimenten van de Stichting Geïntegreerde Visserij in 2015 geven de indruk dat de soort langs de waddenkust te wisselvallig voorkomt voor een structurele visserij. Waarnemingen over een langere periode ontbreken nog.
Omdat er nog niet met pelagische vistuigen op gevist is, kan niet worden ingeschat of de soort zich 's nachts' bijvoorbeeld hoger in de waterkolom bevindt en welke prooisoorten de dwergpijlinktvis dan bejaagd. Juist dit soort informatie is erg belangrijk is om te kunnen bepalen of een doelmatige selectieve visserij mogelijk is.